Let's face it: no matter how careful you are, sometimes, things happen when you're driving. You're driving too fast, and before you know it, there are flashing lights in your rear view mirror. You talk on your cell phone just once, and sure enough, that's the occasion when there's a police officer right beside you. You roll through a stop sign or completely miss the fact that the light in front of you is turning red. Traffic tickets happen–and when they happen, you want the kind of legal representation that is going to go to bat for you.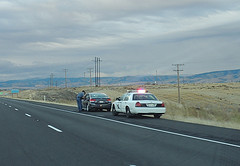 That's exactly what we provide. Attorney Isaac Abraham will provide aggressive legal representation in the event of all sorts of traffic tickets. As a Westchester County Traffic Ticket Defense Attorney, Isaac Abraham is committed to saving clients as much money and aggravation as possible all through the process. Isaac Abraham will handle tickets in courts throughout Westchester, and is familiar with court procedures in New York City, Westchester, Nassau, or Suffolk Counties.
Isaac Abraham will provide representation in any of the following areas: speeding tickets, cell phone tickets, restoring a suspended or revoked license, unlicensed operation of a vehicle, DWI/DUI, DWI refusals, and driving on a suspended license or without insurance. If you're facing expensive tickets, fines, and other issues, come to us! Isaac Abraham fight for you.
Our Strategy
We'll get all of the information that you have available and challenge the prosecution's evidence. At the law offices of Isaac Abraham, we provide a balance of aggressive representation and where applicable, skillful negotiations to help prove that you don't deserve the severity of the fine that you were given. We treat every client as an individual so that you'll be able to plead your case effectively.
Why Should You Hire Us?
As mentioned above, each client is treated as an individual. That means that you aren't going to have to fit the details of your case into a cookie-cutter mold that matches the cases we've dealt with before. Instead, we'll walk you through the entire process, take your details, and find the best way to plead your case.
We've saved our clients thousands of dollars in fines, surcharges, DMV driver's assessments, hiked insurance rates, and time off work. Our legal team is dedicated to giving you the same service we've given all of those other clients, giving you the best chance possible for a reduced sentence. Traffic violations can be costly, but with traffic lawyer Isaac Abraham on your side, you can rest assured that your case is in good hands.

Call us today to discuss your case.